Travel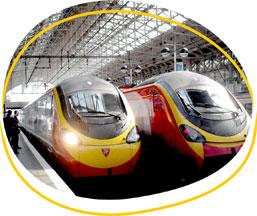 Manchester has excellent rail links with cities across the UK and the European rail network. There are trains every 20 minutes between Manchester Piccadilly and London Euston with a journey time of just over 2 hours. London Euston is a ten minute walk from St Pancras International, which has regular high speed Eurostar trains to Brussels, Paris and Lille.
Manchester Airport hosts 100 airlines flying from over 200 destinations. It offers direct flights from airports across Europe and intercontinental hubs. It is only a 20 minute rail journey from the airport to the centre of Manchester.
Manchester can be explored comfortably and safely on foot. There is a free city centre bus and an extensive tram network.