Place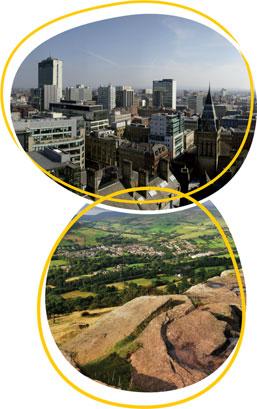 Manchester is a vibrant modern city with ancient origins and rich industrial heritage. Manchester's precocious history of massive urbanism, industrialisation and post-industrial resilience has many lessons for landscape research.
The textile industry and related commerce boomed during the 18th and 19th centuries in Manchester and the local economy thrived. The growth in industry resulted in a huge population influx and urban expansion. During the middle of the last century industry declined and many areas of the city which had previously flourished began to degenerate.
The story today is very different. Regeneration in Manchester has changed the face of the city encouraging innovation and new industries. Manchester is now home to many galleries and museums, top international companies and exceptional universities, making it a thriving creative city with great cultural diversity.
Manchester is in northwest England at the foot of the Pennine hills. Many changing landscapes suitable for field visits are easily accessible by train from Manchester. These include: vibrant urban landscapes of the Manchester and Liverpool conurbations; internationally designated upland landscapes in the Peak District, Lake District and Snowdonia National Parks; diverse coastal landscapes with important marshland and dune systems along the Ribble and Sefton coasts; extensive areas of mossland (wetland) landscapes; and tranquil farmed landscapes on the Cheshire Plain.